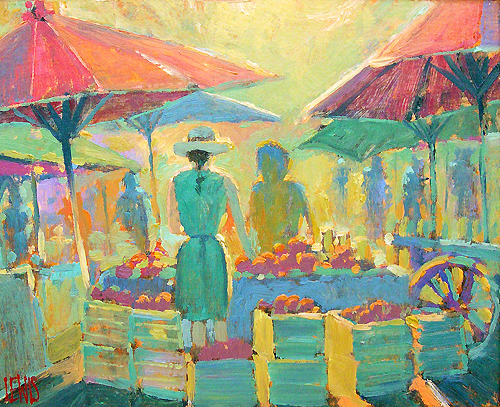 " No one understands that you have given everything. You must give more."
— Antonio Porchia , Voces , 1943
The Quick Draw is an event loved and hated by an artist. On the one hand, it only lasts two hours and often your painting sells. On the other, you only have two hours to paint a painting that is worthy of being purchased. On top of that add in some hot asphalt, direct sun, temps in the 90s, humidity, and hundreds of onlookers.
I learned much from my work this week and one thing was clear, people in a painting take a painting to a new level of interest and narrative. Ol' Dad's been telling me this for years and now I finally get it. So the message coming through to me was to paint people in my paintings, something I have almost never done. It is more accurate to say I have avoided painting people since my few efforts were mostly humorous. Resolving to paint people when I return home is, of course, the easy way out. I'll do it later. Right. So at 10am I set up my easel in a scene that centered on people, plunging right in to what is for me a challenge. But there's that word again: challenge.
Fortunately, the farmer's market was in full fruit and I scouted out and discovered this natural composition, fruit crates of peaches in a semi-circle around the seller, colorful umbrellas tipping this way and that like happy kites. At 10am, all the artists began painting, and there were probably two hundred of them scattered around the town of Easton. Any artist could pay his fee and enter. It was not restricted to the competitors of the Plein Air Easton competition.
My approach was to paint fast and loose, to prevent myself from fussing over details or overworking the piece. I wanted to capture the lighthearted joy of this scene, the nice little peach stand, and the woman selling the peaches. A little girl, about 6, approached me and said "That's my mommy!" I said, oh, what's her name? She looked at me for a second and said, as if I were dense, "Mommy." I later found out that Mommy had a first name, Linda. The painting is called "Sweet Peaches", 14″x11″ oil on canvas board.
Just before noon, I signed the piece. My friends George Hamilton and Steven Ploughe, Susan's husband, came by to help me carry my gear back to Susan's car where she had a frame for me. Susan was also painting in the Quick Draw. We all met at the car and framed our pieces quickly, slogged everything a few streets over to the street where all two hundred artist were setting up their easels for a street art show of the new paintings. Within moments both my piece and Susan's piece were sold. Awards took place at two and we all cheered when Susan won Best Use of Light for her little garden painting.
After a hard week of overcoming illness and fatigue and all of the other challenges of plein air painting, the Quick Draw is one more chance to step up and give it everything you've got and then give some more. Nothing like it.
Tomorrow, the Sunday Brunch and the end of Plein Air Easton.