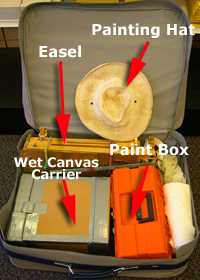 You'd think that getting your painting supplies to Maryland would be simple. And it is, if you are willing to spend, spend, spend!! I checked the American Airlines site early this morning to see what their baggage requirements…uh, or should I say, restrictions are…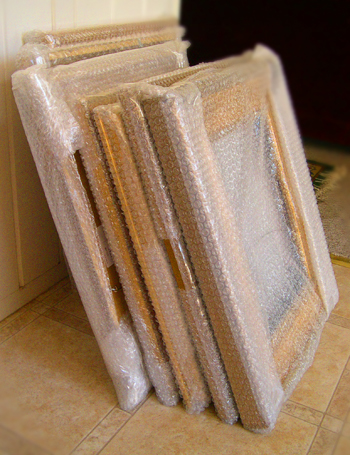 Here is a photo (right) of the wonderful thrift shop luggage I purchased for $5. I scaled all of my painting supplies down to fit into this bag. Half box French easel, wet canvas board carrier, and tool box full of paint and medium, plus my hat and a roll of paper towels for the first day of painting.
But this morning, American Airlines taught me how to measure my bag: width, plus length, plus depth equals a number. If that number were 62 inches or less then I'm okay. If not, the bag charge would be AT LEAST $150! Do you understand? That's the cost for checking this bag! My bag totalled 64 inches. I was looking at more than $150.
Grrrr. I threw the bag into the car and drove down to UPS. Can you ship this as is, in this baggage? Yes, of course! How much? $75. So. I gave UPS the bag, and I also brought in the seven frames I had bubble-wrapped. I said pop these into a box and ship them too. Well, they had to make a box, and with the insurance everything, it came to about $200. But I don't have to lug this stuff through the airport and I still save a couple hundred. Sometime next week, the two boxes will arrive at the home of my lovely hosts, the Hamiltons, near Easton, Maryland.