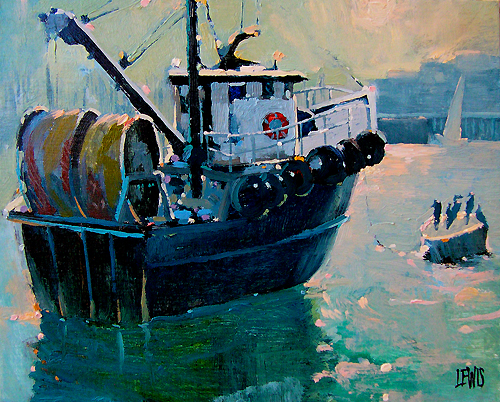 "Irene's Way ", 11″x14″ oil on canvas board by Robert Lewis
To say that I know how to paint boats would be a very big mistake. After five days of painting nothing else, thinking of nothing else, dreaming of nothing else, eating nothing else, I admit I've made progress. But my experience tells me over and over ( not that I ever learn! ) that the moment I feel smug enough to say I've made a breakthrough, Plein Air bites me hard. Meaning that tomorrow's painting may be a complete disaster. So, I will be coy in my assessment of this painting: While painting it, I had some good moments. Looking at the finished piece, I can say it has its good points.

Clearly, however, I am miles way from the shore I want to stand upon. Don't get me started on nautical metaphors again.

This morning I felt that my bad attitude about the questions that people ask is really wrong. As a plein air painter, you have inserted yourself into the landscape in the most unusual way. To the person strolling by you are as out of place as a beautiful model in a formal gown with a film crew, or a crazy clown blowing balloons, or a mime! Oh. This is a very disturbing thought. I wish I hadn't thought of it. But it is true in a way.

Then there is the other aspect of the average person as an art critic. Generally, people don't know a thing about art but "they know what they like". So, even though you may be bewailing the failed painting you are trying to complete, and someone gives you the thumbs up, and you are tempted to show them a different digit, remember (and I'm speaking to myself here.) be kind. Just say "Thank you."

By the way, there are two kinds of boats, those that are docked and those that are moored. Boats that are moored have this annoying habit of moving. Just as your chosen boat is turned just so, looking all interesting and beautiful, and you start to paint it, you will find that when you look up, it is turned completely around facing a different direction. Of course, no worry, it will come back to the beginning again in some mysterious cycle of profiles it displays to you as if to say aren't I the prettiest boat you've ever seen?

I can't say that Irene's Way is one of the prettiest, but it is certainly the largest boat in the Monterey harbor. It has a dark presence, and is moored alone in a large area so it can show us all of its sides. Why Irene's Way? I can't begin to speculate on that, except to say that if Irene was anything like this boat, she most certainly got her way.