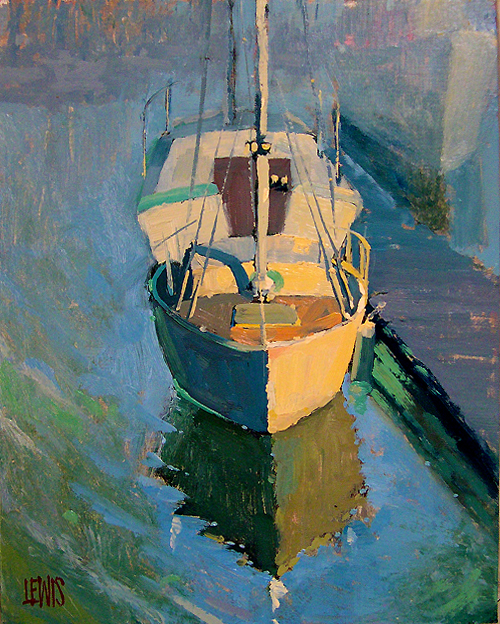 "Boats at Moss Landing ", 11″x14″ oil on canvas board by Robert Lewis
At 6am I looked out my window at the garden and the garden wasn't there. It's only 20 feet away but it was gone. Fog had rolled in, a thick garden-eating fog that lay up against my window breathing hard, trying to find a way in to get me. I pulled the curtains quickly, turned in panic, thinking about painting. I can't paint in the fog, my mind screamed! Then I remembered. I had made plans to go to Moss Landing today. Moss Landing, where I believed, with an unshakeable faith, that the sun would be shining, and not only would it be shining but it would be shining on…boats! I calmed myself with this beautiful image of sparkly white boated, clanging rigging, and the calls of gulls.

Picking up ol' Dad, who wanted to go along and see the old marina where, years ago, he once kept a small boat, we stopped for coffee to go and made our way through the fog and overcast north, skirting the Monterey bay. We traveled through farmlands and had a lively discussion about the farm workers bent over harvesting our dinner, agreeing once and for all that they are hard working, have a shot at a good life and are taking it. God bless them! But Dad became gloomy about the weather, the overcast and the fog, grumbling that I probably would not get the sun I needed. Look up ahead, I said, what do you see? A glowing spot in the fog. Moss Landing!

After scouting out the harbor, which is filled with raggedy old boats and research vessels, we picked a spot and I started painting. This training has been good for me, though grueling. Pushing hard has revealed all of my weaknesses in mind, body, spirit and painting ability. I am very sad to say that there are too many weaknesses and I was a happier person when I was not so fully aware of my weaknesses!

But, one must push on with what one has, trying to learn, to overcome, and, in this case, paint better. My competition will easily see that I am not much competition after all. Especially if I keep making the same mistakes over and over again. In the case of this painting, I like how I've captured the light and the reflection, but why why why did I pull back so far from it! It was my intent to fill the canvas with the boat. Yet, when I was finished, there it is, a small part of a large expanse of uninteresting water. Some kind of mnemonic device is needed to make me remember to fill the canvas with the subject. This painting would have been better had I reminded myself that everyone knows a boat floats on water, no need to prove it by showing the entire harbor.

That's what training is all about. Of course, not just training but learning how to paint better. Given all of the distractions and variables perhaps it is a miracle of sorts that anything half way decent comes of this.
Back to the (brain) Fog…
After this tough morning, I dropped Dad off at the Fisherman's Wharf and drove home and lay down, sunburned, eyes tired, and feet sore. Rain had washed the fog away. I could see the garden again. Falling into a fitful sleep, I dreamed a jumble of vivid image all somehow connected with boats and painting. If you've ever seen a dog sleeping and it looks like he's dreaming about chasing a rabbit, his paws moving in little running movements, low half-barks coming out of him, anyone watching me sleep would have seen something similar. But I would be making brushstroke and palette knife movements and grumbling half-curses. When I woke up I couldn't imagine ever painting again, in my life. Death. Nap death. You know how that feels…

But I got up. And I drove back over to Monterey and set up near the little boatyard that is next to Del Monte beach near the entrance to pier 2, where I had painted the other day and missed the seagull bombardment. Thinking that I would do a sketch only, an oil sketch, I stood there painting, still half asleep, mumbling over and over "Sketch….sketch…just a sketch…".

It is Saturday and the beach is filled with a thousand happy, barbeque-ing, beer-drinking people with children shrieking, leaping in the water and chasing each other. A very, very happy and noisy scene. Forlorn that they were having fun and I was working, I faced yet another challenge of plein air painting: leisure envy. But I got over it, was happy for them, and proud of myself for overcoming the Very Strong Urge, as Pooh would say, of blowing off the day and just having a beer like any normal person would do! But I came to my senses with the certain realization that I am not normal so I would be going against my nature to actually relax and have fun! But I am just wallowing in self-pity now.

Perhaps, the high point of this painting was when a man walked up to me, about to ask a dumb question, and me turning to hear for the hundredth time "What are you painting?" when he used a word I had never heard used before: orthogonally. Because the sun was behind me (another of my rules broken!) I had turned my easel at a right angle to the scene I was painting so that the sun would not fall on the canvas. "Excuse me", he said very politely, "I couldn't help notice you are painting orthogonally to the scene and I was just wondering if you could tell me why." I liked him right away. An original question. Funny thing is, I knew what he meant, though it struck me that I had never actually heard anyone say that word.

The nice thing about this painting is the the full sun is pummeling the dusty ground and the light is bouncing up on the bottoms of the boats.  Orthogonal or not, however, I insist it is just a sketch.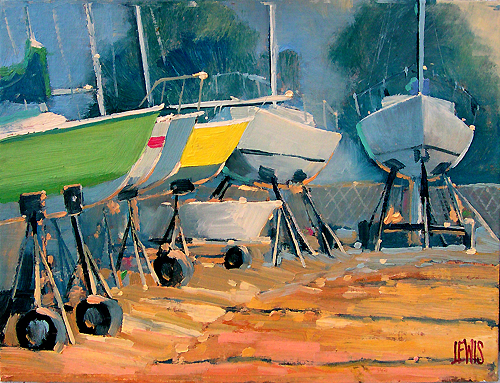 "Del Monte Beach Boatyard ", 12 "x9" oil on canvas board by Robert Lewis