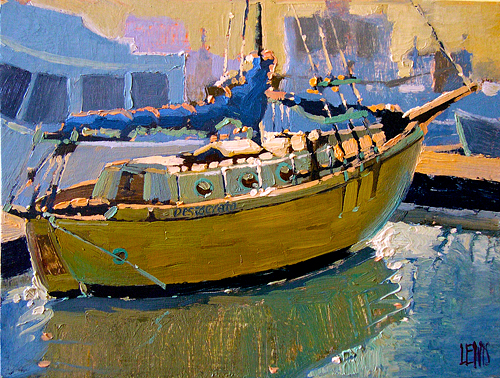 "Go placidly amid the noise and the haste, and remember what peace there may be in silence."

—

from Desiderata by Max Ehrmann (1872–1945)
What's in a Boat Name?
This morning there was no fog, no hint of cloud, and I could see, in my mind's eye, the harbor in Moss Landing. It was filled with sunlight and happy boats. There was no hesitation, no doubt in my mind, I was peaceful and secure in this image. I quietly finished my tea, packed a lunch, and headed out, leaving the peninsula behind and skirted around the bay through morning farmlands again. I pulled into the harbor an hour later. Sun, glorious sun. And quiet, no sound of gulls, no barking of sea lions. The day was still new, at that sweet spot between the last of sleep and the first of work, that spot where it is possible to feel happy to have made it one more day and have one more chance.

The naming of a boat is one of those areas of human creativity where the average person becomes his most creatively outlandish. Boat names seem to reflect something very personal. They speak, perhaps, of long lost loves or wives at home, like Miss Annie, Celeste, Valerie, and Miss Annie. They speak of saucy ladies whose identities should be protected, like Rachel T., Jeanne B., or Catarina B. I wondered who they are, and realized that if I had a saucy lady boat it would probably be Mae W.

Other boat names are wistful, wishful, and dreamy. They sing of the sea: Sea Wind, Midnight Flyer, Dreamcatcher, Night Wind, Ocean Angel. Still others portray the cap'n and crew as salty sea dudes: Desperado, Greybeard, Outrider, and Shelter Dog. There is a smattering of non-English names, Pancho, La Muchacha, and the Happy Tortilla, or, further abroad, Andiamo, Anam Cara, and even Brillig.

Some are just odd. You can't help but wonder why, why, Chicken o' the Sea. Or Krusty Krab 2: that means there have been two Krusty Krabs. Most original: Onchorynchus; guess what the captain does. There are the obvious ones like Bob-a-Lou, Hook Up, and Tina Louise; it's clear what they were thinking.

As I explored the harbor looking for a boat to paint, looking for the right angle, the right interest, some color, I came around the corner and my eyes fell upon a yellow boat, Desiderata. Perhaps I have a thing for yellow boats; second one this week. But it was a combination of the yellow and the name. Desiderata's home port is London, by the way, but it looks as if it has been sitting in this slip for some time now

Odd, the name Desiderata, things desired, and the beginning line "Go placidly amid the noise and haste…." perfectly matched my mood. In plein air painting, this is what I look for, this flowing back and forth between me and the landscape I am in. It speaks, I respond. I respond, it speaks. When this happens, it takes my breath away and, still learning, it makes me nervous. Nervous because I see, without any doubt, this is what I was meant to paint and so now it is up to me to rise to the occasion. In that spirit, I rose and painted "Desiderata", 12″x9″ oil on canvas board.